CONFIRMATION CLASS:
This evening @ Grade 7 Confirmation Class, I talked about the 4 Evangelists: St. Matthew, St. Mark, St. Luke, & St. John.
St. Matthew (Feast: September 21) composed his Gospel mainly for Jewish Christians. It is the Gospel of the "Kingdom". The word "Kingdom" was mentioned 51 times in this Gospel. This Gospel contains the 7 Parables of the Kingdom. St. Matthew grouped most of Christ's teaching into 5 long discourses. The Sermon on the Mount is the 1st of the 5. Each discourse ends with: "and it happened when Jesus had finished...".
St. Mark (Feast: April 25) was a gifted story teller. He was sensitive to concrete details. St. Mark obtained information from St. Peter. Hence, vivid, eye-witness quality is founded in passages whenever St. Peter was present.
St. Luke (Feast: October 18) was a traveling companion of St. Paul. He also wrote the Acts of the Apostles. The Gospel of Luke & the Acts of the Apostles should be read together. There are many parallels & contrasts within the passages. 2 important themes of St. Luke's Gospel are: Prayer & Mercy.
Prayer: recorded Jesus prayed before every important step. He recorded also the Parable of the widow & the unjust judge (18:1-5) to inculcate perseverance at prayer.
Mercy: Sinful woman (7:36-50), Zacchaeus (19:1-10), the good thief (23:39-43), parables of the lost sheep (15:4-7), the lost coin (15:8-9), & the prodigal son (15:11-32).
The first 3 Gospels are called the Synoptic Gospels. There are many parallels among the 3 Gospels. The 4th Gospel recorded many details not found in the Synoptic Gospel.In St. John (Feast: December 27th) Gospel recorded the 7 Signs as manifestations of Jesus as Son of God:
1. the Miracle at Cana (2:1-11)
2. the healing of the official's son (4:46-54)
3. the healing of the paralytic (5:1-9)
4. the multiplication of the loaves (6:1-14)
5. the restoration of the blind man (9:1-41)
6. the raising of Lazarus (11:17-44)
7. the Resurrection of Jesus (20:1-10)
Here is the link to the last class:
1ST COMMUNION CLASS: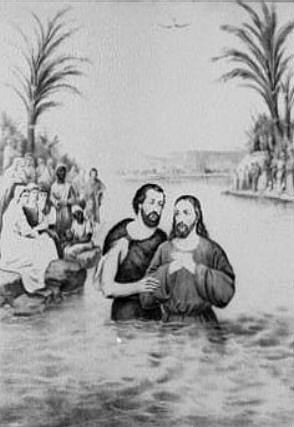 The Baptism of Jesus is a Figure or Type of Our Own Baptism.
At Jesus' Baptism heavens opened, the Holy Spirit descended, and a voice from Heaven spoke. The same happens, in a certain sense, at the Christian Baptism. In this Baptism man becomes a child of God, an heir of Heaven; Heaven is opened to him immediately. Through Baptism man is made a temple of the Holy Spirit, who descends into the soul, and by sanctifying grace, renders it pure and innocent as a dove. The baptized becomes a child of God, in whom God is well pleased.
Here is the link to last 1st Communion Class: