On June 15 each year the faithful of Pibrac in France honour a young saint, Germaine Cousin (1579-1601). The apostolic brief for her beatification stated: "A simple maiden, humble, and of lowly birth, but so greatly enlightened by the gifts of divine wisdom and understanding, and so remarkable for her transcendent virtues, that she shone like a star not only in her native France but throughout the Catholic Church."
An unwanted child
Germaine's right hand was deformed and paralyzed at birth. She lost her mother, and was unloved by her father and stepmother. Her stepmother treated her harshly and beat her savagely. After the birth of the stepmother's own children, she kept Germaine away from them.
Germaine was made to sleep in a stable under the stairs. She was fed with scraps, and often she was so hungry that she ate what dogs and pigs left behind. As soon as she was old enough, she was sent out to be a shepherdess.
She was never given a pair of shoes. Her feet were frost-bitten in winter and bloody in summer as she led the flock to pasture and back.
Love for God and others
During her long hours tending sheep, Germaine acquired so much experience in the art of prayer that she was able to gather young children around her to teach them the simple truths of religion, to share the lives of the saints she heard in church with them, and to lead them to love God more.
Germaine had a great love for the Holy Sacrifice of the Mass. The parish church was her refuge in the midst of sufferings. Nothing could stop her from attending daily Mass.
When she heard the bell, she would plant her shepherd's staff in the ground, entrust the flock to the care of her guardian angel, and hurry to church. The sheep never wandered away from where her shepherd's staff was planted, nor did wolves come to attack them.
In order to attend Mass Germaine had to cross a stream. One day there was a flood, and the stream turned into a strong torrent. People said, "Germaine will not come to Mass today!" But they were mistaken. Germaine attended Mass as usual. Two villagers testified that they saw the flood water open like the Red Sea to let Germaine pass through.
Though poor herself, Germaine would share her food with beggars. Even this became a cause of complaint!
One cold winter's day, her stepmother pursued her with a stick and accused her of concealing stolen bread in her apron. Threatening to strike the girl with the stick, the stepmother commanded Germaine to open her apron. To the amazement of those present, summer flowers of a kind unknown to the region fell from the apron to the snow-covered ground.
A saint of Pibrac
The villagers of Pibrac began to realize that there was a saint in their midst. Their contempt was changed into veneration. Even her father and stepmother relented and allowed her to sleep at home. But Germaine chose to remain in the stable. One morning Germaine was found dead on her straw pallet under the stairs. She was 22.
During the night of her death, two monks who travelled from Toulouse were sleeping in the ruins of a nearly castle. They were awakened by an angelic melody.
They saw a great beam of light ascending from a building to the sky, and heavenly figures descending into the building. Later these heavenly figures ascended into heaven with another figure.
When the monks reached Pibrac next morning, they inquired if anyone had died during the night, and were told of the death of the young shepherdess, Germaine.
More than 40 years later, during the burial of a relative, the body of Germaine was discovered to be incorrupt. There was great devotion to her in Pibrac, and many miracles were ascribed to her. She was beatified in 1854, and canonized on June 29, 1867.
每年六月十五日,法國都魯士Pibrac均慶祝年輕聖女日納曼.高馨St. Germaine Cousin (1579-1601)的瞻禮。日納曼宣福的文獻敍述:「一位單純、謙遜和賤育的少女,卻因超性的上智和明達所光照,修成傑出的德行,猶如一顆閃爍的明星,照耀着整個法國及普世教會。」
被賤待的小孩
日納曼天生右手殘廢;自幼喪母,又不為生父和庶母所喜,更常諸多刻薄,把她孤立。聖女夜宿馬廐梯間,吃的是殘羹冷飯,有時甚至要吃豬狗所吃剩的食物充飢。稍長之時,被遣牧放羊群。由於常赤着脚,聖女雙脚凍傷在寒冬,破損在炎夏。
愛天主、愛近人
日納曼並沒閒渡牧羊的歲辰,反過來大自然卻培育了她熱切的祈禱生活;她更召集鄰近的小孩,教授他們簡單的要理,覆述神父曾講過的聖人行實,誘導他們多愛天主。
聖堂就是聖日納曼克苦生涯的慰藉,而她特別喜愛參與彌撒聖祭,亦從不缺每日的彌撒——鐸鐘一響,她就把牧杖插在田野,飛奔到聖堂參與彌撒,那管豺狼耽視,只叫護守天使守護羊群;果然羊群未嘗走失,豺狼亦未嘗光顧!
日納曼要赤足涉渡溪澗,始能到達聖堂。有一天,山洪暴發,溪水驟漲,流勢湍急,眾人正揣測日納曼不可能參與彌撒,兩名村民親眼目睹洪溪竟然分界,聖女居間安踱,就像當日以色列人在紅海分界的乾地上逃生——天主不讓她缺望一天的彌撒。
不管自己貧無立錐,溫飽不繼,日納曼居然仍願意分施自己的食物給乞丐,但反而招惹庶母指她偷取麵包:庶母怒氣拿起木棍,作勢要打日納曼,要她攤開圍裙檢查;圍裙甫開,稀有的夏日鮮花,一束束地倒在雪地上。
都魯士的聖女
都魯士村民漸漸地意識到有一位聖人在他們之中,他們對日納曼的蔑視,轉化為尊敬,她的親父和庶母要日納曼到屋子裏睡,日納曼拒絕了。一天清晨,人們發現日納曼在馬廐梯間的草堆溘逝,年僅二十二歲。
日納曼逝世當晚,有兩位旅經的修士在附近廢堡借宿,突然被天使聖樂所醒,只見一道强光從一所建築物直射夜空,天使循光下降;不久,修士們見到那些天使帶着一個人,緩緩升到天上。天亮後,兩位修士到都魯士村內,一問便知道那升天的,是剛去世年輕的日納曼。
四十三年後(一六四四年),日納曼的遺體從比巴聖堂裏發掘出土,屍體完好無損,沒有一點腐朽。在許多聖蹟的支持下,日納曼在一八五四年被宣福,一八六七年六月二十九日,教宗庇護九世把日納曼列入聖品。
Published at Pax Sinica column (June 14) of The B.C . Catholic newspaper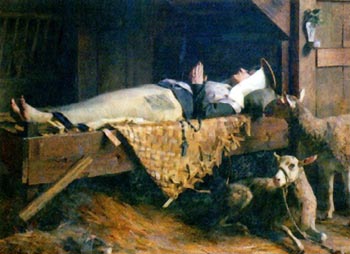 Prayer to St. Germaine
Blessed Germaine, you knew poverty and hunger:
Protect those in need.
You knew handicaps and illness:
Watch over the handicapped and sick.
You knew rejection and loneliness:
Be a friend to those who are alone.
You knew the pain of being an abused child:
Guard all children from such hardship.
You knew what it meant to trust in the Lord:
Help us all believe, and hope, and love.
Amen