According to the chief exorcist of Rome, Father Gabriele Amorth, Blessed John Paul II is an effective intercessor against evil spirits.
Father Amorth said:
"I have asked the demon more than once, 'Why are you so scared of John Paul II and I have had two different responses, both interesting. One, 'because he disrupted my plans.' And, I think that he is referring to the fall of communism in Russia and Eastern Europe. The collapse of communism."
"Another response that he gave me, 'because he pulled so many young people from my hands.' There are so many young people who, thanks to John Paul II, were converted. Perhaps some were already Christian but not practicing, but then with John Paul II they came back to the practice. 'He pulled so many young people out of my hands.'"
Please read the entire article HERE.
1984 Collegial Consecration of Russia to the Immaculate Heart of Mary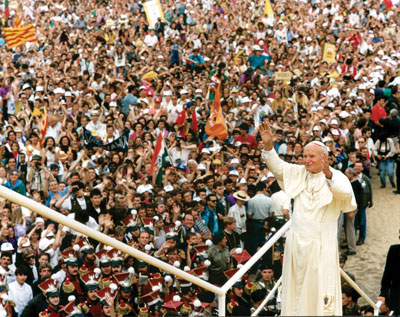 John Paul II at World Youth Day