Preached a series of 5 sermons on Our Lady of Fatima during Lent @ Precious Blood. Also recorded the talks for Chinese radio.
Sermons: http://fatheranthonyho.wordpress.com/sunday-sermons/
Radio talks: http://fatheranthonyho.wordpress.com/radio-recordings/
Baptism on February 17:
February 17 evening: Farewell for Sister Connie (she was @ Precious Blood Parish for 7 years)
Started a new Junior Legion of Mary (Our Lady of Fatima) on February 22: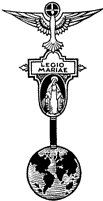 February 22 evening---CFC Youth prayed & sung @ Precious Blood Parish:
February 28: offered Mass at nursing home during the last half hour (10:30 to 10:59 am Vancouver time) of the Pontificate of Benedict XVI.
March 13: offered Mass at Holy Cross high school for the new Pontiff after the white smoke but before the announcement.
Celebrated Masses @ SFU Interfaith Center
March 16---Baptism 2 twin babies:
Some birthday celebrations:
Pursuit of Love (EV 13) Chinese evangelization event:
Please click HERE to listen to EV 13 theme song.
Here are the main points of my talk @ EV 13:
1. "Pursuit in Love"---Not only we pursuit God, but God Himself pursuits us:
Naturally:

God gives us the desire for perfect & eternal happiness
God gives us conscience
God gives us Creation & Relationships (Family & Friends)

Supernaturally (spiritually):

Bible
Christ Jesus taught mankind & died to give us grace
Daily graces given to us
2. God Himself is the Goal of our pursuit:
We are created for God not for the world

100 years ago we were not here. 100 years later we will not be here anymore
Life is a journey and Heaven is the goal
Here on earth we can have true happiness to the extend that we truly love. But we cannot have perfect happiness
Here on earth we often do not get what we desire, and we are sad. Often we get what we desired, but we get tired of it soon and we are bored. There is no perfect happiness on earth.
In heaven, a soul always desires but also always satisfied----Perfect Happiness only in heaven
"Our heart is created for God, and it is restless unless it rests in God"
Here on earth, we cannot avoid human sufferings. But Christ came to walk with us. He is close to us, but if we isolate ourselves we cannot experience His love. (Isolation is one of the greatest punishment one can inflict on oneself) We should open our heart to Him.
Christ is the Way, and Truth, and the Life.
As the Way He walked with us. As the Truth and the Life, He is our goal.